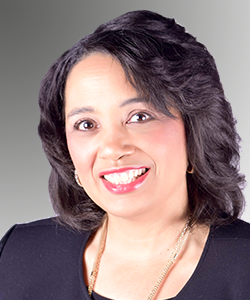 Contact
Senior Health Equity Analyst, Northeast Region
Tisha Reid
---
Tisha Reid serves as a Senior Health Equity Analyst for I-HOPE, a statewide opportunity designed to address the effects of health disparities for better health outcomes. As part of a regional Field Implementation Team, Tisha brings voices to the table to talk about innovative ways to better connect people with the support they need to get healthy and stay healthy. She works with stakeholders to reach communities who are at higher risk for health disparities and those who are disproportionately affected by the pandemic.
Prior to coming to Purdue University, Tisha was the Lead of Health Equity & Cancer Control for the Indiana Clinical Translational Sciences Institutes' Connections IN Health project, and she was the Cancer Liaison for the Indiana Comprehensive Simon Cancer Center. In these roles, Tisha collaborated with multi-sectoral stakeholders on chronic disease, provided evidence-based programs, and assisted in building strategic frameworks to address cancer control, gaps in service, and social determinants of health. 
With more than 25 years in public health, Tisha is recognized as a health equity advocate and community mobilizer. She has developed mobile health programs, worked in community-engaged research, and implemented best practices to improve the health of marginalized communities. She is a respected leader on local, state, and national boards, and serves on the Governor-appointed Interagency Black & Minority Health Council, the Indiana Health Disparities Task Force, Indiana CTSI's Health Equity & Racial Justice Task Force, IDOH Vaccine Messaging Task Force, and other boards addressing health equity and COVID-19. Tisha has received recognition and awards from the American Heart Association, Indiana Cancer Consortium, Indiana Immunization Coalition, Martin University, National Black Leadership Initiative on Cancer, and the National Cancer Institute's Cancer Information Service.
A native of Indianapolis, Tisha holds a Bachelor of Science in Public Health Administration from Indiana University. She is a certified Health and Wellness Coach through Real Balance, LLC, an AAUW Salary Negotiation Facilitator, and author. Tisha is passionate about holistic health and health equity. She is an ordained minister who loves mentoring, spending time with family, bowling, watching sports, and dancing when no one else is watching.