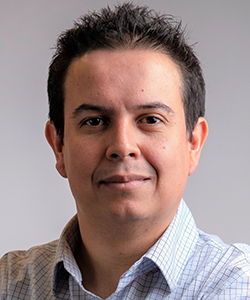 Contact
Lead Data Scientist
Gustavo Valencia
---
Gustavo Valencia, PhD, MSTAT, serves as Lead Data Scientist for the Regenstrief Center for Healthcare Engineering (RCHE). In this role, he will support the work of Purdue Health Advisors to provide and make sense of health-related and associated data for use by the state and communities. His work will involve developing and implementing predictive models, data mining techniques, and machine learning algorithms as well as assisting with data quality and visualization.
Prior to joining RCHE in May of 2022, Gustavo served as director of data science for an AgTech company, leading research projects and building products based on data analytics. Gustavo has nearly 18 years of experience in statistics/data analytics with an extensive background researching and analyzing data associated with security and fraud prevention, user behavior analysis, and digital agriculture. 
Gustavo's research interests lie in synthetic data generation for supervised learning tasks and data visualization. He has served as an assistant professor for undergraduate and graduate courses related to Statistics, visualization, business intelligence, and data mining. 
He earned a bachelor's degree in electronic engineering, a Graduate Certificate in Management from the Universidad Pontificia Bolivariana, a master's degree in statistics from the Universidad Nacional de Colombia, and his doctorate in computer engineering from Purdue University.