Strategic Doing™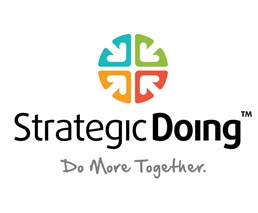 Strategic Doing™ is an agile collaborative method developed by a former Purdue University professor. It approaches change through appreciative inquiry, which focuses on community strengths rather than weaknesses.
During a six-hour strategy event, Participants gather to answer an appreciative question that seeks to bring out the very best in the community. Seated at tables balanced to each include different sectors (schools, business, social services, law enforcement/courts, faith-based organizations, government, etc.), participants approach the appreciative question by collectively engaging with each other on a journey through the following four steps:
1 - What could we do? As table teams consider the appreciative question, they will uncover each person's assets, and facilitators will help the them consider about how to link & leverage those assets to produce three good ideas for taking action. Examples of assets may include access to meeting spaces, knowledge of (health information, grant writing, housing), grant funds to spend/share, influence in your organization/circle, a large group of followers (social media or in person), access to transportation (van, truck), etc.
2 - What should we do? Each table will collectively link their assets to form three project ideas and then vote to determine which of the action ideas is the best option to move forward. The project selected will be to the one with the largest impact that is easy to implement. The "Big Easy."
3 - What will we do? The Big Easy will become the pathfinder project for that table. Table teams members will agree to action items to complete over the next 30 days.
4 - What is our 30/30? Each table will decide when to meet again (about a month later) to discuss what was learned, follow-up on any assignments, and decide on needed actions for the next 30 days. In addition to the launch event, the engagement will take approximately 60 minutes per month of each participant's time.
 You can find out more about Strategic Doing™ workshops and view this overview video.