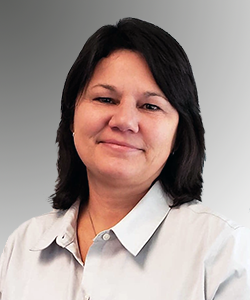 Contact
Interim HealthTAP Director
Regina Pilotte
---
Regina Pilotte, MS, OTR/L CLT, CSSBB, serves as Lead Advisor, Lean Healthcare at HealthTAP. In this role, Regina works with hospitals and healthcare agencies throughout Indiana in various stages of their lean journey, leading lean process improvement projects as well as coaching and advising internal and external lean leaders. Regina provides her expertise to the Indiana Healthy Opportunities for People Everywhere (I-HOPE) initiative as Lead Lean Advisor, and to CORE-ECI as Data Coordinator.
Prior to joining HealthTAP, Regina spent 20+ years working in the healthcare industry in a variety of capacities including operations management, clinical supervision, and clinical care in both urban clinical settings. She has worked on numerous key initiative committees to improve emergency response and hazmat, cancer care, opioids reduction and process improvement. As an operations manager, Regina supported organizational goals through departmental strategy, service line development, and budgeting. Using Lean methodology, she improved organizational process and efficiency, resulting in improved patient flow, denial management, clinical staff development and staffing models.
As an occupational therapist, Regina was driven by her passion for quality care for all.  She served clinically and managed a variety of settings including inpatient, outpatient, school, industrial, long-term care, and psychiatric as well as mentored countless students and new clinicians. She has clinical expertise in therapeutic intervention related to cancer care, lymphedema treatment and craniosacral therapy.
Regina received a dual bachelor's degree from Purdue University in Movement and Sport Science and in Health Promotions, then obtained her master's degree from the University of Indianapolis in Occupational Therapy. During this time, she served in the USAR as an enlisted officer trained as an operating room specialist in the 337th combat support hospital. Regina is certified as a Master Blackbelt in lean process improvement.
"Using Lean methodologies to improve process in this capacity allows me to focus my passion for quality patient care on improving systems for a greater overall impact."