Improvement Events
Our Lean First training program recognizes that lean doesn't work unless an organization is invested in it and prepared to spread lean thinking throughout. We teach and coach Lean Daily Improvement (LDI) Facilitator trainees to create small changes while they work, Lean Practitioner trainees to perform Rapid Improvement Events (RIEs), Advanced Lean Practitioner trainees to perform Value Stream Analysis (VSA), and Lean Leaders to create a culture of continuous process improvement by embedding a lean office within their organization.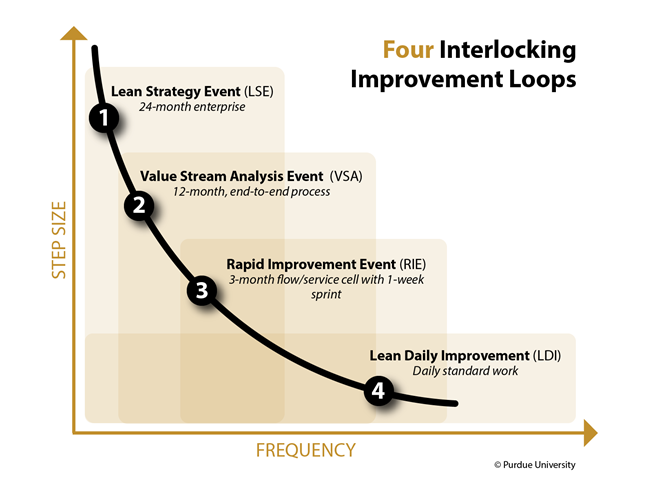 Lean Daily Improvement (LDI)
Lean Daily Improvement teaches learners how to make small, daily, coordinated changes to work processes for improved healthcare access, quality, and cost. It's an evidenced-based method that provides the least amount of disruption to the workday as it equips staff with robust lean techniques to make systematic changes while work is being done. LDI involves the selection of a key performance metric; the collection and visual display of data; and running of team huddles to get to root causes, assign corrective actions, and keep the process moving. The Lean Daily Improvement Facilitator Training & Certification course is offered online and includes access to a community of practice with real-world case studies as well as remote coaching from lean experts.
---
Rapid Improvement Event (RIE)
In preparation for and during a Rapid Improvement Event (RIE), healthcare lean teams focus on a process problem that needs extra attention. They review the current state and the future state; experiment with solutions; finalize new standard work; and create a completion plan. Preparing for, delivering, and facilitating to closure an RIE typically spans three to four months. The RIE change phase takes about three to five business days. The subsequent sustain phase includes dozens of smaller improvements (through Lean Daily Improvement) made to refine and hold in place measurable improvements. Once closed, the demonstrated improvements created may be systematically spread to other parts of the organization using different lean methodologies.
HealthTAP can assist in all aspects of:
preparing for the event including team and target area selection, baseline data analysis, setting goals and A3 documentation. 
delivering the event by providing a facilitator, co-facilitator or coach to support a client facilitator.  
facilitating the event to closure by providing coaching to the client's staff, participating in Lean Daily Improvement setup and team huddles, and working with leadership to remove barriers.
---
A3 Thinking
HealthTAP uses the scope-solve-sustain stages of A3 thinking, which is a well established lean problem solving method for making rapid-cycle process improvements. A3's use different stages and boxes within stages to move through an RIE or VSA.

Scope Stage ― The scope stage requires identifying team members and the challenge they must tackle. It's important to have a clear focus area for the Rapid Improvement Event (RIE). The target area is a small but important segment of the revenue cycle process where the team can make immediate workflow and behavior changes to meet improvement goals without spending money or adding staff. Scoping also involves defining the current and target state for the focus area in terms of metrics. The event team needs to know which metrics they must move and by how much. Scoping typically takes 30 days.
Solve Stage ― Once scoped, the solve stage brings the team together and a facilitator delivers an RIE to solve the challenge. With an RIE, 50% to 80% of the change or improvement is made during the event rather than after it. The solve stage involves just-in-time lean training; understanding the current state; uncovering root causes; generating solution ideas using lean thinking; testing solutions via rapid experiments; defining specific tactics to hard wire the changes; planning to complete the implementation; and setting up a Lean Daily Improvement (LDI) process within the target area. The RIE typically takes three to four days.
Sustain Stage ― Once lean solutions have been defined and tested, the implementation plan is completed and LDI work starts. The sustain stage involves collecting data; updating graphs and other forms of visual management; conducting team problem-solving huddles; and implementing counter measures or small adjustments to ensure the new standard work from the improvement event hits target metrics. This stage begins to build a habit of continuous improvement within a group much larger than the RIE team. Area or value stream leadership monitor the improvement by reviewing data weekly for a month to ensure the improvement works, and then monthly for a couple of months to be sure it's sustained.
---
Value Stream Analysis (VSA) Event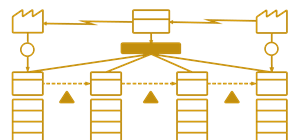 While it's important to be able to conduct a Rapid Improvement Event (RIE) when opportunities are identified, the ability to analyze value streams takes process improvement to a whole new level. A Value Stream Analysis (VSA) Event — perhaps the most powerful in the lean toolbox — and its resulting RIEs and "Just Do It" projects — allows hospital lean teams to maximize the value created for the customers of each stream (i.e. revenue cycle, patient satisfaction, ED throughput). In doing so, traditional management silos are supplemented by engaged, cross-functional teams with passionate ownership of their respective value streams.
HealthTAP's VSA A3 problem solving process includes stages similar to an RIE in which VSA team members map and analyze the current state, define the reengineered state, define the future state, create a value stream improvement plan, perform a VSA metric alignment assessment and create scoping charters for rapid improvement events and projects identified within the value stream improvement plan.
VSA events include team meetings; updating the A3 and visual management for the value stream; gemba walks; planning for upcoming improvement events; and troubleshooting events in the sustain phase. In addition, HealthTAP helps VSA team members identify lean improvements that are spread-ready, and then facilitate diffusion across the organization.
Contact
Karen Leaman
Lead Program Assistant
NEWS & ANNOUNCEMENTS
Purdue is enlarging its capacity to create, verify and deliver innovative solutions to health and health care problems with a significant expansion of Regenstrief Center. ...

Regenstrief Center and the IDOH are partnering on the Indiana Healthy Opportunities for People Everywhere (I-HOPE) initiative to ensure all Hoosiers have better access to the resources needed to achieve better health. ...

"This Is Purdue" welcomes former Indiana Health Commissioner and U.S. Surgeon General Dr. Jerome Adams to Purdue as the university's first executive director of health equity initiatives. ...

Led by Purdue and IU Health, CORE-ECI — a consortium of university, health care, faith-based and local government entities — will work to improve prevention, treatment and recovery services in Blackford and Jay Counties ...

Northwestern University's article published in the Annals of Family Medicine describes the H3 implementation of an evidence-based, EMR-integrated community resource referral system in primary care practices.  ...