Lean for Rural Healthcare
For many of the grant initiatives shepherded by HealthTAP, we serve practices, hospitals and clinics located in rural and sometimes extremely remote areas. Serving the needs of small and under-resourced providers (SURP) who are underserved by other consultants is part of our mission as a non-profit, outreach program of Purdue University. We are a proud partner of both the National Rural Health Association (NRHA) and the Indiana Rural Health Association (IRHA).
Utilizing improvement funds for cohort-based, lean training
As your state plans its application of SHIP funding or other monies, consider creating a cohort of hospitals to participate in online Lean Daily Improvement training as a way to extend those dollars.
We've had success over the years working with cohorts of hospitals and healthcare organizations through funding from various sources. Our Lean Healthcare Transformation Initiative, which is a multi-year effort funded by the Indiana State Office of Rural Health (INSORH) Program through the Medicare Rural Hospital Flex Grant Program, involves three cohorts. Several hospitals from the first cohort created Lean Offices that were certified by Purdue in 2019. The second cohort is comprised of hospitals and behavioral health organizations that are working on establishing their own Lean Offices in the near future.
In addition to our Indiana work, we have worked with a hospital cohort in rural Oregon through funding from the Small Rural Hospital Improvement Grant Program (SHIP). The estimated SHIP award amount is $12K per eligible hospital per year over a project period of four years.
We've also formed cohorts comprised of rural practices, clinics and hospitals enrolled through a CMS-funded program that we managed for Indiana, and we successfully submitted a grant with Marion General Hospital to improve the processes surrounding their congestive heart failure clinic and to help them implement telehealth. This was funded through the HHS Office of Minority Health.
Lean First for Healthcare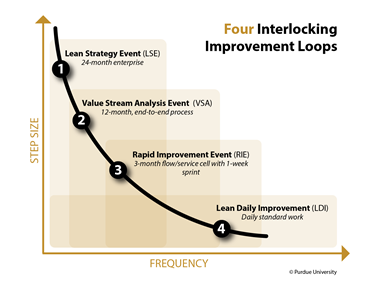 The level of investment and "lift" starts light with our Lean First program and progresses through various levels of lean maturity. First we train your organization's core team to use innovative, healthcare-focused lean tools to make and sustain process-improvement changes. Then experienced coaches help you develop an agile approach to align your lean work with organizational strategic priorities. Finally, your team establishes a core set of institutional metrics to measure outputs and interpret information in a transparent way.
The Lean First program allows participants to level off at any stage of lean maturity and still continuously improve. As your core team is better able to move horizontally and vertically within your organization, you have the option of establishing a Lean Office to operationalize lean and ensure your ability to grow and incubate lean talent.
Online Training
Because we've worked with hundreds of rural providers, we know how difficult it is for you to find the time and resources to embed lean in your organization. So we invested in the creation of HealthTAP Direct, an e-learning environment from which we can affordably and conveniently train and coach rural healthcare cohorts across the country.
Much of our training can be customized with a combination of onsite visits, online training, remote (interactive webinar-based) training, and remote and onsite coaching. Lean Daily Improvement is now available as an online digital badge course with coaching for those who wish to complete an LDI project to become certified as an LDI Facilitator. The course equips healthcare professionals with robust lean techniques to make approved, systematic changes while work is being done. Unlike Rapid Improvement Events, Value Stream Analysis or Lean Six Sigma, LDI is a method that provides the least amount of disruption to the workday because it occurs at the point of service. Trained LDI Facilitators know how to choose a key performance metric; collect and display data visually; run team huddles to get to root causes; assign corrective actions; and keep the process moving. Online learning, access to a community of practice with a repository of real-world success stories, and remote coaching by lean experts make LDI a smart choice for resource-constrained organizations that want to boost quality metrics.
We want to ensure our evidence-based lean strategies find their way to organizations struggling to adapt to a rapidly changing healthcare environment, and we want to do it in a way that is sensitive to rural providers' time constraints and budgets.
Contact
Karen Leaman
Lead Program Assistant
NEWS & ANNOUNCEMENTS
Purdue is enlarging its capacity to create, verify and deliver innovative solutions to health and health care problems with a significant expansion of Regenstrief Center. ...

Regenstrief Center and the IDOH are partnering on the Indiana Healthy Opportunities for People Everywhere (I-HOPE) initiative to ensure all Hoosiers have better access to the resources needed to achieve better health. ...

"This Is Purdue" welcomes former Indiana Health Commissioner and U.S. Surgeon General Dr. Jerome Adams to Purdue as the university's first executive director of health equity initiatives. ...

Led by Purdue and IU Health, CORE-ECI — a consortium of university, health care, faith-based and local government entities — will work to improve prevention, treatment and recovery services in Blackford and Jay Counties ...

Northwestern University's article published in the Annals of Family Medicine describes the H3 implementation of an evidence-based, EMR-integrated community resource referral system in primary care practices.  ...