I-HOPE
About the Program
Indiana Healthy Opportunities for People Everywhere (I-HOPE) is a two-year initiative in which Purdue University will collaborate with almost 100 statewide partners to help tackle the obstacles that prevent people from living healthy lives. HealthTAP and the Indiana Department of Health are leading the effort to ensure that all Hoosiers have access to the resources needed to achieve better health. I-HOPE aims to reduce systemic health and social inequities, with specific emphasis on the health disparities experienced by ethnic and minority groups and rural communities.
In collaboration with dozens of I-HOPE partners including Purdue's Brian Lamb School of Communication, Purdue Extension, the College of Health and Human Sciences, and the Purdue-affiliated Connections IN Health, HealthTAP will administer the initiative's engagement and communication efforts in counties considered most vulnerable to pandemics based on national rankings for chronic disease, vaccination rates, substance use disorder, and other factors that lead to increased mortality rates. With priority going to areas of the state ranked highest for vulnerability to a pandemic outbreak or natural disaster, Purdue initially will engage five counties followed by an additional 25 counties in 2022. The initiative runs from June of 2021 to July of 2023.
---
Field Implementation Teams
Field implementation teams of project managers, health equity analysts, and process improvement experts from PHA (listed below) alongside county-based extension educators will reach out to critical stakeholders to inform community-level public health strategies, execute community-selected improvement projects, and support these projects with linguistically and culturally appropriate communications campaigns.
The goal of these teams is to amplify community health priorities such as chronic disease and other health risks, and find innovative ways to connect people with the support they need to get healthy and stay healthy. 
Visit I-HOPE for more information about the initiative. 
---
Go here for a larger map displaying county names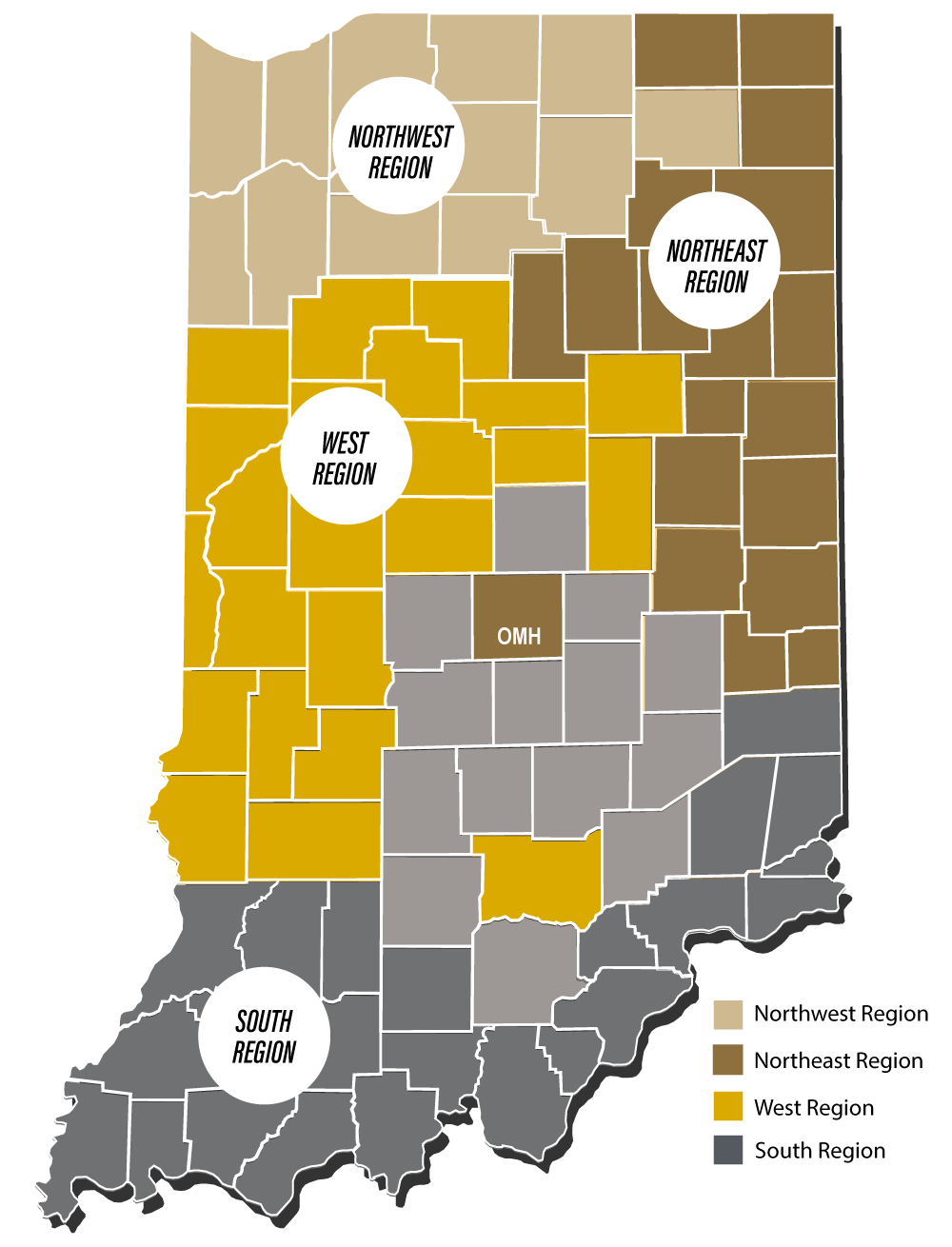 Field Team-Northeast Region 
Field Team-Northwest Region
Field Team-West Region
Field Team-South Region
Contact
I-HOPE is funded by a $34.8M grant from the U.S. Department of Health and Human Services to the Indiana Department of Health as part of the Coronavirus Response and Relief Supplemental Appropriations Act, 2021, to address COVID-19 health disparities among populations at high-risk and underserved, including racial and ethnic minority populations and rural communities. The contents are those of the author(s) and do not necessarily represent the official views of, nor an endorsement, by the CDC, HHS, or the U.S. Government. For more information, please visit CDC.gov.
NEWS & ANNOUNCEMENTS
Purdue is enlarging its capacity to create, verify and deliver innovative solutions to health and health care problems with a significant expansion of Regenstrief Center. ...

Regenstrief Center and the IDOH are partnering on the Indiana Healthy Opportunities for People Everywhere (I-HOPE) initiative to ensure all Hoosiers have better access to the resources needed to achieve better health. ...

"This Is Purdue" welcomes former Indiana Health Commissioner and U.S. Surgeon General Dr. Jerome Adams to Purdue as the university's first executive director of health equity initiatives. ...