Indiana hospital increases revenue by applying lean principles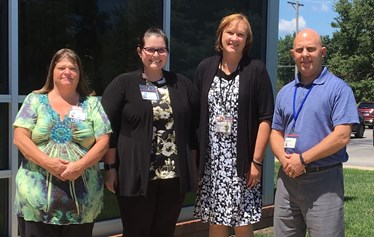 The lean team at Pulaski Memorial Hospital is utilizing Value Stream Management (VSM) to stem the tide of revenue loss due to claim denials.
The Winamac, Ind.-based hospital is among 14 Indiana Critical Access and Rural Hospitals participating in a three-year Lean Healthcare Transformation Initiative facilitated by Purdue Healthcare Advisors (PHA). In year two of the grant, Pulaski Memorial focused improvement efforts on insurance claim denials, which were leading to hospital write-offs and delays in reimbursement from the insurance company and from patients. Denials also were affecting the patient experience by creating confusion in financial responsibility and delays in receiving statements for services.
"As the first non-clinical process improvement project we've performed with Purdue Healthcare Advisors, our early revenue cycle results don't disappoint," said Pulaski Memorial's Vice President of Patient Administration Peg Madsen, RHIT, CPHQ. "We have achieved a 43% reduction in denials for prior authorization and a 100% reduction in write-offs in our selected focus area of scheduled procedures in diagnostic imaging and outpatient surgery, which has resulted in a 51% reduction of overall write-offs for the hospital.
Led by Madsen and Rehabilitation Services Director Will Fox, revenue cycle process improvement efforts began in early 2017 with the introduction by PHA of VSM and other lean tools. Then the hospital created a VSM (Value Stream Management) Team to analyze the hospital's revenue cycle from its beginning through to the customer.
"The formation of the VSM Team was the single most important thing we did," said Fox, PT, an Advanced Lean Practitioner candidate who presented at the initiative's annual meeting in August to share best practices with other participating hospitals. "The VSM Team's ten members now play an active management role, providing ongoing oversight to the revenue cycle value stream. VSM sparked lean engagement facility-wide and heightened awareness of the impact of revenue loss on the hospital as well as the impact on staff due to increased rework to get claims paid."
The VSM Team got into the trenches with staff, using a lean tool called a gemba walk to learn from and educate staff as the work was happening. "You think you have the project dialed down, but then you get the right people in the room, or observe the process unfold, and suddenly things can be seen in a completely different light," Fox said.
"What value stream analysis does is allow the hospital to look at the big picture and, more importantly, it allows each individual along that particular value stream to see how their actions affect the process as a whole," said Mark Clare, MA, MS, LSC, LSSMBB, PHA's principal advisor for strategic initiatives and head of its process improvement service line.
Based on the value stream analysis, the hospital has conducted two Rapid Improvement Events (RIE): one focused on write-offs due to preauthorization and another focused on verification of insurance eligibility. A third RIE is scheduled to address write-offs due to medical necessity.
Pulaski Memorial's lean team members are Peg Madsen, RHIT, CPHQ, Vice President of Patient Administration and Executive Sponsor; Will Fox, PT, LPC, Director of Rehabilitation Services, Advanced Lean Practitioner (ALP) Candidate; Caitlin Barry, Medical Staff Services Supervisor, Lean Practitioner (LP) Candidate; and Carrie Collins, RN, Clinical IT, LP Candidate.
About Purdue Healthcare Advisors
As part of Regenstrief Center for Healthcare Engineering at Purdue University, Purdue Healthcare Advisors (PHA) serves the training, project facilitation and assessment needs of thousands of independent practices as well as hundreds of hospitals/healthcare systems striving to increase cost savings as they better the patient-care environment. PHA's Lean Healthcare Transformation initiative provides quality-improvement training, coaching and project facilitation to Indiana's Critical Access Hospitals and Rural Hospitals from 2015-2018. Funded by the Indiana State Office of Rural Health (INSORH) through the Medicare Rural Hospital Flex Grant Program, the program focuses on leadership development in a lean organization; utilizing value streams for a systematic approach to improvement; and improving care delivery while systematically reducing cost.
Sources:
Mark Clare, MA, MS, LSC, LSSMBB, Principal Advisor for Strategic Initiatives, Purdue Healthcare Advisors; (765) 496-6945; mclare@purdue.edu
Peg Madsen, RHIT, CPHQ, Vice President of Patient Administration Pulaski Memorial Hospital, pmadsen@pmhnet.com
Will Fox, PT, Rehabilitation Services Director, Pulaski Memorial Hospital, wfox@pmhnet.com