Wait shortened for state approval of commercial onsite sewage systems
Lean efficiencies are helping the Indiana State Department of Health (ISDH) meet new, set timelines for commercial onsite sewage system (OSS) plan reviews.
Onsite sewage systems not connected to sewer mains comprise about 30% of the waste systems in Indiana. Recently, legislators passed a law to limit the amount of time that the state has to review a commercial OSS plan. The new law requires reviews be completed in 31 days on first pass, and 10 days on subsequent revisions. Not meeting these deadlines means automatic plan approval, which has the potential to negatively impact public health. Delayed construction permitting also tends to lead to elevated costs, and dissatisfied business owners. Previously, the review process required multiple resubmissions, with the average time from first submission to final approval logged at 122 days.
Shortening this lengthy review process was a priority for the ISDH, which had engaged Purdue Healthcare Advisors (PHA) to build capacity for lean process improvement within the department. PHA was charged with training 10 ISDH employees to become Lean Practitioners and, as part of their training, each needed to participate in a Rapid Improvement Event (RIE), which is a lean problem-solving method for making rapid-cycle process improvements.
The first RIE for the ISDH included the Lean Practitioner trainees, staff members of the Division of Environmental Public Health, and representative consulting engineers from throughout the state. The group analyzed current-state work processes for the commercial OSS plan reviews, identifying inefficiencies or (ironically) "waste." They also completed a thorough root cause analysis that culminated in the design of a new plan review process that was "tuned up" by lean thinking.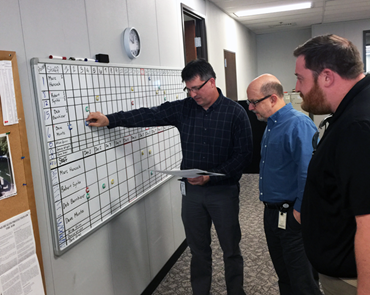 The lean team developed a standard workflow to maximize efficiency by balancing the workflow, and by matching work assignments to each person's qualifications. They recommended that several field staff be cross-trained as a back up to perform plan reviews in addition to the existing reviewers, and created a system where all reviewers share the project work. They accomplish this by using the same forms and speaking the same professional language. Engineers who participated in the RIE were able to instruct staff on how to convey information to them in a way that avoids miscommunication.

PHA Senior Advisor Melanie Cline, RN, MSN, said a powerful lean tool called a Level Loading Board (Heijunka Board shown right) was implemented to help the division stay on top of the process. "The board visually depicts all the plan reviews as they make their way through the process," said Cline. "The board assures transparency and empowers the group to problem solve to assure plans are processed first in and first out without bottlenecks or delay."
The improvements have been in place for several months now, and Division Director Mike Mettler says the division has met its targets. "Before we made the change, each project was handled by each engineer in a silo and was reviewed when time allowed," Mettler said. "Now we work as a team, with short, daily huddles in front of our Project Tracking Board during which we review the status and tracking of each project."
Mettler is convinced the standardized review processes not only allow for a time-sensitive review, but a more thorough review each time.