Northwest Indiana-based provider network improves its diabetes care monitoring with Lean Daily Improvement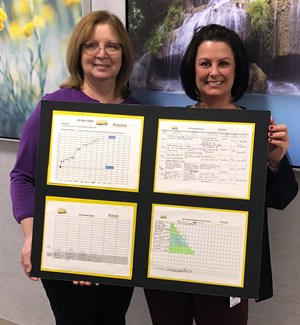 Diabetes management reached a new level of excellence at the Munster-Indiana based Community Care Network, Inc. (CCNI), through the application of a methodology aimed at making small but meaningful daily adjustments to how we work and behave in order to move or hold a quality metric.
In the fourth quarter of 2017, the Great Lakes Practice Transformation Network (GLPTN) offered CCNI and its other members an introduction to Lean Daily Improvement (LDI), which applies small-step changes to impact care metrics without major workflow disruption. CCNI's Clinical Quality Analyst Michelle Curran, RN, said the group of Community Healthcare System-affiliated providers wanted to pilot the LDI approach at one of their sites to see if they could increase the number of diabetes patients receiving follow-up care – specifically the follow-up care associated with the blood test Hemoglobin A1c (HbA1c).
HbA1c levels indicate a patient's average level of blood sugar over the past two to three months, and provide a good indication of how well diabetes is being controlled. People who have diabetes need this test regularly to see if their levels are staying within range. The target HbA1c level is usually less than 7%. CCNI wanted 95% of patients at its Lake George Clinic in Hobart with HbA1c results above 9% to be scheduled for a timely follow up visit. Only 26% of this patient population was scheduled for a follow-up visit at the start of the GLPTN+LDI initiative.
"We know that diabetes patients who are appropriately scheduled for follow up are able to better manage their condition, thereby lowering their HbA1c and improving their overall health," Curran said. "The higher the HbA1c, the higher the risk of complications related to diabetes."
Through the GLPTN+LDI initiative, Purdue Healthcare Advisor (PHA) Managing Advisor Elaine McCracken, MBA, instructed and coached a lean team at CCNI's Lake George Clinic on how to perform LDI whereby a team scopes a project; creates new standard work; collects and displays data visually; runs team huddles to get to root causes; assigns corrective actions; and keeps the process moving.
Together, PHA and the clinic team created a reporting tool to identify patients for additional follow up for their uncontrolled diabetes. Then they built a workflow around patient outreach to generate a list of all target patients; determine which patients had a follow-up visit scheduled; compile a list of patients who needed a follow-up appointment; make follow-up calls; and schedule the patient visit.
"We reviewed our progress during a scheduled weekly huddle, which provided an opportunity for us to identify barriers as well as create solutions," Curran said. "Through LDI, we were able to create a well-organized platform for patient outreach that could be incorporated successfully into the everyday workflow."
Six weeks into the initiative, the CCNI site reported a significant increase in patients scheduled for a follow up visit to address elevated HbA1c test results. The number of targeted diabetes patients scheduled to return rose from 26% to 88%.
"CCNI was one of several GLPTN-member groups participating in the GLPTN+LDI Initiative," said Allison Bryan Jungels, CHES, GLPTN's Indiana Program Manager and Network Quality Improvement (QI) Lead. "We were excited to see their impressive results as well as those of other groups who applied LDI to depression screening, hypertension control, and transitions of care. LDI can be effective for any project that requires a team-based, continuous improvement habit at the point of service."
CCNI has been able to quickly roll out the LDI-diabetes project to six additional sites by replicating the process that was established during the LDI. It helped also that the group was able to generate a gap report — one that could be sorted by provider — from its EPIC data base.
"Our additional sites have yielded the same positive outcome as our pilot site," Curran said. "The LDI project gave us a great baseline as to what office protocols and workflows are needed to be successful in outpatient outreach."