Small Mishawaka practice uses Lean Daily Improvement (LDI) to improve MIPS metric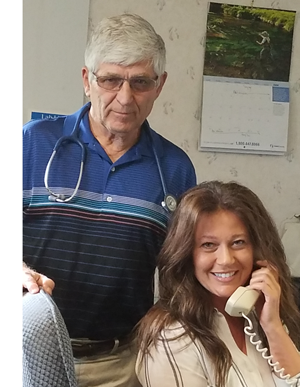 McKinley & Shipshewana Medical Clinics ("McKinley"), a one-physician practice owned by Lawrence Curry, DO, in northern Indiana, joined the Great Lakes Practice Transformation Network (GLPTN) with the goal of successfully reporting to the new Quality Payment Program (QPP).
GLPTN assigned an advisor to McKinley to help the practice report metrics to the QPP's Merit-based Incentive Payment Program (MIPS), which provides financial incentives for improving patient care and streamlining processes. One of an advisor's initial tasks is to review MIPS metrics and determine the ones best suited to the practice for reporting.
Last year, GLPTN Quality Improvement Advisor Fundisani "Fundi" Mangena, MBA, CMPE, CHTS-PW, noticed that a potential MIPS Quality category metric was seriously lagging. It involved Clinical Quality Measure NQF0024, which calls for practices to counsel younger patients (ages 3 to 17) who have a higher Body Mass Index (BMI) percentile. Counseling for nutrition and physical activity must be documented in the practice's electronic health records (EHR) system during the measurement period to count toward the metric.
"This was a quality metric I believed we could easily improve, because McKinley had only been using an EHR for four years, and so it was clear that the staff was just not used to logging information into it; did not understand the implications to MIPS for not logging it; and/or did not understand how data was captured in the EHR," Mangena said.
As an advisor certified in Lean Daily Improvement (LDI) training from Purdue Healthcare Advisors (PHA), Mangena asked PHA to work with McKinley to improve the metric. Together, the team devised a plan to implement LDI, which is a form of process improvement that works well when making small-scale changes. "What's great about LDI is that practices don't have to stop everything to create lasting change," Mangena said. "LDI tools such as team huddles, and a countermeasures sheet are used to keep improvements on track as work is being done.
The new standard work implemented requires the practice's care coordinator to check next-day schedules to identify patients who need the counseling and to add an electronic Popup Reminder to the EHR. During the patient visit, the clinicians and medical assistants provide the counseling, document it as structured data in the EHR, and close it out by marking it "complete."
"It was a hard sell at first because this is a very busy practice caring for more than 6,000 unique patients. But once we started it, everybody got onboard including the physician, nurse practitioners and the medical assistants. Dr. Curry made sure we had the resources we needed," said Rosemarie Scott, a process-improvement consultant for McKinley. "We all wanted to see what we could achieve both quality-wise and financially." 
Scott added, "We found that the most time-intensive part of the process involved reviewing the next day visits and inserting the reminder flags. Care Coordinator Zita Sefcsik [shown in photo with Dr. Curry] really ran with this, and we saw performance numbers start to go up rapidly."
With LDI, the average time for the new standard work to stick takes between 90 and 120 days. McKinley documented its efforts for six months between October 2016 and March 2017, bringing its baseline* of 0% to 90% in that timeframe. Overall, McKinley improved its MIPS Quality score by 7 points.
"One of the things LDI did for McKinley was to create a culture within the practice of mindfulness. They continue to pay attention to what they are doing now with regard to process improvement," Mangena said. "This enhanced awareness will adapt to additional processes they target for improvement."
The practice plans to apply LDI to two more MIPS quality measures: Diabetic Foot Exam (NQF0056) and Smoking Cessation (NQF 0028). In addition to improving quality metrics, McKinley will be able to use the LDI training as a formal improvement methodology to garner 20 points in the MIPS Improvement Activity category.
*For MIPS calculations, the denominator is the number of patients who are flagged in the EHR as needing nutritional and/or physical activity counselling on a given day; the numerator is the actual number of patients from the denominator who received the required services AND had these services appropriately documented in the EHR system.